Licensing
How to find your Machine ID
After installation, the pnumerics engine generates a Machine ID for the machine it is running on. When you start up the engine, you will see two fields printed out. Machine ID and Auth. If a license file is missing or invalid, then the software is going to display either Trial or a related message. If the software is still in its trial period, it will proceed as expected or exit otherwise.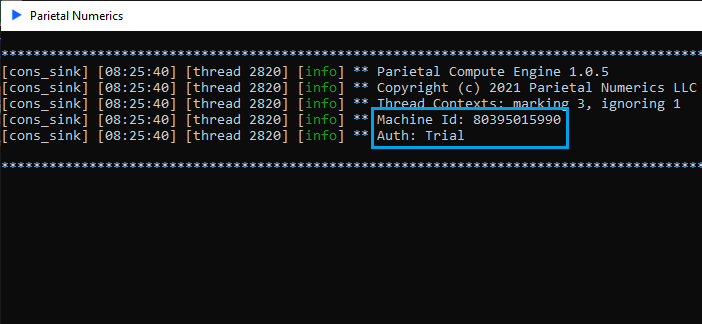 How to get your License File
The Machine ID is what we use to generate a license file for you. There are two ways we can send it over to you.
During checkout, you can enter it into the Machine ID field
You can either email it to us at support@pnumerics.com
We can then generate and email you the license file typically within 1 business day.
Note that if you are looking for volume licensing for an organization, we can accomodate your licensing needs. Depending on the terms of the contract, we can strip licensing checks altogether without ever having to set up an on-prem licensing server or any other inconvenient solution. We are here to make things easy for both you and us.
What to do with your License File
The license.bin file we send you needs to be placed in the same folder where the parietal.exe is located. This should typically be C:\Program Files\Parietal Numerics\. Once that is done and you start the engine back up again, you will see Auth status has changed from Trial to Standard. You are now good to go.